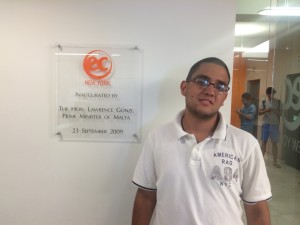 Daniel  is student from Spain who studied in our Academic Year Program, which is a full immersion English program for six months. During his time at EC New York, he was able to improve his English by 76% overall. Additionally, Daniel improved from the Pre Intermediate level to the High Intermediate level. This is an improvement of three levels! Great job, Daniel! We're so happy for your improvement!
"I would recommend EC New York to all the people. I enjoyed meeting new people and the classes are so interesting. If you want to improve your English, don't be shy to speak English and try to speak in English a lot. Also, enjoy your lessons and try to study in your home."
Thanks for your great advice, Daniel!
Comments
comments