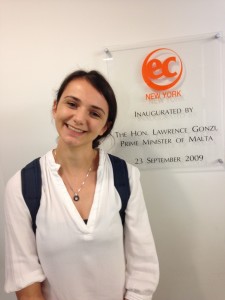 Elvire Sinani is a Kosovar student who studied in EC New York's Semi Intensive English program for ten weeks. With all her hard work and dedication, she learned new words in English and improved her English by 39%. Before returning home, Elvire shared some helpful tips for improving your English.
"For improving your English, it is not enough to just go to school. After school, you should meet people and try to use the language all the time. In my opinion, it was also important to re-read on the evenings what we did at school that day. I really enjoyed the "reading circle" at EC New York. I think that it really helped me to improve my skills in understanding a text."
Thanks for sharing your feedback, Elvire!
Comments
comments