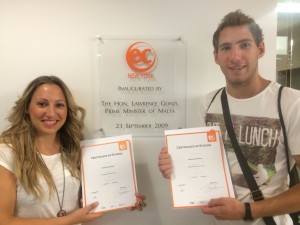 Cristina and her brother Alberto came from Spain to study English in New York for four weeks. They took part in the General English course and were able to improve their English by 32% and 38% respectively. Before graduation, the two spent some time to reflect on their experience learning English at EC New York.
"I would recommend EC New York because they have a very correct and friendly relationship with students, face to face and personality. I also really liked the education system with advanced technology with whiteboards and the facilities are brand new and modern. They do different schedules in the morning or afternoon so you can a lot of things at different times with sometimes free mornings or free afternoons. Personally, the things that I liked were the classes. I can't choose only one thing, but maybe, in my opinion, I would like to have more hours to study because it was so great! The activities that the school offers are interesting as well as the extra classes for pronunciation, reading, or writing. I would advise students that in order to improve your English, you have to want to improve. In my case, I came here with my brother and it would have been a mistake to stay all the time together so you must make friends and you have to try to separate from the people who speak the same language as you. It's probably the biggest mistake that someone could make. The most important thing for me was that I didn't have to use my phone to translate some words, I always was able to ask the teacher and get the help I needed."
Come to EC New York and study in our full immersion English program.
Comments
comments