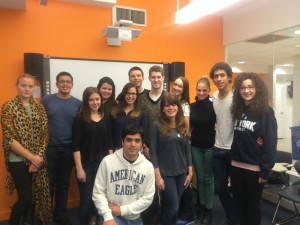 Francesca  is an Italian student who studied in EC New York's full immersion English program for ten weeks. Over the course of her program, Francesca improved her English by 19%. She was a very creative and active student who took a lead role in her class' play on an adaptation of the children's story 'The Three Little Pigs'. We will truly miss her positive energy and great spirit in our hallways and we wish her the best of luck in her future. Before her graduation, Francesca left her thoughts on EC New York.
"I recommend EC New York to other students because it's a good opportunity to meet new friends and learn English. It was a very good experience for me. The EC team is so helpful and friendly with students, if you have a problem, they will help you every time. I love the lessons at EC school because you will improve listening, writing, and grammar. I recommend also the elective classes in Intensive English because they are a good opportunity to learn more grammar and writing or other interesting activities like language of music or living in English, etc. Some advice for students is to speak English all the time in school and at home, do your homework, and pay attention in your lessons. I think studying at EC New York is a good way to learn English."
Come study at EC New York in our full immersion English program.
Comments
comments