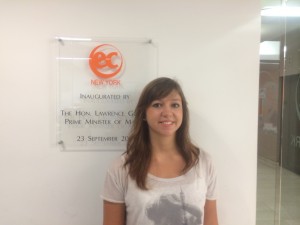 Laura Anita Schirmer is a German student who studied English at EC New York for five weeks. She enrolled in a General English course and made significant improvement in her English. Each week her English improved by 3% for an overall improvement of 15%. She also improved from a B2 level to a C1 level. Amazing job, Laura!
"New York is an amazing and overwhelming city and EC New York is located centrally. You can find it easily and you can reach every part of the city fast via subway. The school takes heed of the classes, that there are only ten to fourteen students in a class. That is a perfect quantity to learn and improve. The teachers are very pleasant and helpful and have fun teaching students from different cultures. The lessons are interesting and an abundance of different learning techniques are used. Additionally, you are supposed to do a lot of teamwork, because speaking a language is a very important part of learning. In addition, you get sometimes some essays to write, which will be corrected. In the end, EC New York is also interested that you establish contacts with other students. Therefore, they organize a lot of activities every week. If you are having problems during your stay with class, teachers, residence, host family, etc. there is always somebody to help you. Everybody in EC is very kind and ready to help. Even though I was in Upper Intermediate, I could improve my English in just five weeks. Now, I feel more secure to speak and I am not afraid to ask or make mistakes. You can also learn from mistakes! I really enjoyed my time in EC New York and met a lot of nice people, with whom I will keep in touch."
We're so proud of Laura and her many achievements during her time at EC New York! If you would like to learn more about our excellent full immersion English course please click on the link provided.
Comments
comments