Dominik Formella has been studying at EC New York for three weeks at an upper intermediate level. We are sad to see him leave! Here is what he had to say about himself and his experience at EC New York: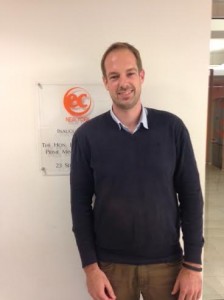 Why are you learning English?
I am learning English for work, which is why I am taking the elective "English for work". I work for an IT company and we have a lot of customers throughout Europe, especially in Spain and France- so there is no other way to communicate.
Why did you choose to study English in New York City?
I have always been interested in the city, and it is never boring. You can do a lot of things. There are so many bars and places to see. I was already at EC London for one week, and I saw that EC offered more locations and New York was the most interesting.
Why EC?
At first, I looked up EC online and read through ratings, and EC seems to be a good school.
What do you like most about EC?
I think the teachers and the students. I have enjoyed meeting people from all over the world.
What do you like most about living in New York?
So many possibilities! Endless museums, bars, lounges, and places to go.
What advice would you give to someone learning English in NY?
To stay with people who aren't from your country. I try to avoid other Germans!
Fun facts:
Dominik's favorite food in Germany is schnitzel with lemon and raspberry sauce. His favorite food in New York City is a pastrami sandwich from Katz's Deli. He is also very organized, and values punctuality!
We'll miss you, Dominik!  Good luck!  Check out EC New York's programs to learn English in the US!
Comments
comments