Federica Simona from Switzerland, Pascal Ammann from Switzerland, and Francesco Antinucci from Italy met each other at EC and have become such close friends! The three of them shared information about their experience and about learning English in New York.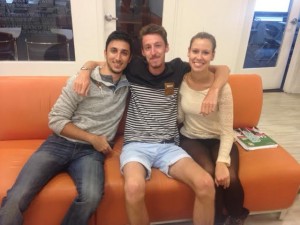 What is your favorite part about living in New York?
Federica: The friendships at school and the Brooklyn Bridge.
Pascal: Entertainment. So many things to do in New York.
Francesco: The school. Seriously!
What surprised you about New York that you weren't expecting?
Federica: The amount of people!
Pascal: The transportation system is sometimes not that great.
Francesco: Spending too much money. So expensive!
What do you like the most about EC?
Federica: The design!
Pascal: The teachers.
Francesco: The atmosphere
Why are you learning English?
Federica: For my job
Pascal: For my job
Francesco: For myself!
Why EC, and EC New York?
Federica: Of the EC schools, EC New York is the most attractive to me.
Pascal: It's because someone recommended EC in general, and it was the best place to choose for three months. There's a lot to do in New York!
Francesco: Ah, I love New York! You can ask my friends- I have posters and pictures of the city! I'm obsessed!
What advice would you give to someone who is trying to learn English?
Federica: Don't speak your mother tongue. Never!
Pascal: Try to speak with locals.
Francesco: Don't be shy!
Do you want to make friends from around the world like Federica, Pascal, and Francesco?  Visit our website to learn about our full immersion English programs!
Comments
comments