Mariia Korzhemanova from Russia improved her English by 17% during her 3 weeks at EC New York. That is a 6% improvement for each week! We are so proud of you. Way to go, Mariia! Mariia shared with us why she would recommend EC New York to others, her favorite things about EC New York, and her advice for future EC New York students.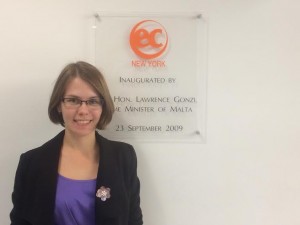 "I would recommend EC New York to other students because it is an international school located in the heart of Manhattan with amazing teachers. Lessons have never been boring as all the teachers are very creative people. And you can meet so many people from all over the world!"

Advice: "If you really want to improve your English, don't miss the lessons and be active: joint he school events, walk around the city, visit as many places as you can, listen and talk as much as you can!"
Congratulations!  Would you like to improve your English like Mariia? EC New York offers plenty of options to study English in the US!
Comments
comments