Sarah Fatana from Switzerland improved her English by an incredible 135% during her 16 weeks at EC New York. That is an 8% improvement every week! Great job Sarah- what an amazing accomplishment! Sarah shared with us why she would recommend EC New York to others, her favorite things about studying at EC New York, and the secrets of her success- her advice to other EC New York students.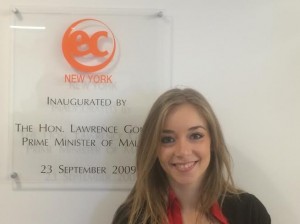 "I recommend EC New York because all the academic team are very friendly and the teachers are excellent. We aren't too much students per class, so the teachers have time for you and you learn very fast. Further, you meet very good people and a lot of people with different cultures. My favorite thing in EC NY was the quality of the teachers."

"My advice for improving the English is speaking a lot and enjoying your time in New York."
Congratulations, Sarah!  You can improve your English too in one of our full immersion English programs.
Comments
comments