One advantage to studying in New York is that you are located in the middle of the East Coast and a major transportation hub for the entire United States, and the world. Students are encouraged to travel on weekends and holidays to get a taste of the cultures in different cities and states.  The options are plentiful!  We asked students and EC staff to give recommendations and suggestions for short trips to other cities within the United States and Canada. Here are some of their opinions: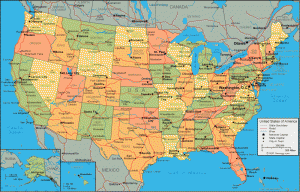 Washington DC- Bus ($) – 6 hours ;  train ($$) – 4 hours  ;  plane ($$) – 1 hour
Washington DC is a great choice for history buffs and those who want to learn about American politics and history.
"I went to Washington DC with the EC organized trip. There are a lot of places to see in a little bit of time. It all went very fast. I really enjoyed the Museum of American History." –Laure, student
"Washington DC has an awesome museum system.  Smithsonian museums are not only free, but they are all close to each other and offer museums for every interest- from art, to history, to science.  The restaurants are also great!" -Tiffany, EC staff
Miami– Plane ($$$) – 4 hours
Miami is a good choice if you're looking to escape the brutal New York winter.  There is also an enormous amount of Cuban influence on Miami culture, so be sure to try Cuban food and practice your Spanish.  The famous South Beach is a hot spot for gay nightlife and partying in General.
"The weather is appealing- it is nice and warm and there's a beautiful beach.  Just be careful- it can be full of spring breakers, which isn't always good." – Alena, teacher
Boston– Bus ($) 4 hours  ;  train ($$) 3 hours
Boston is another great destination because of its close proximity to New York and its historical significance.  There are several major universities making it a city of students and young people.  There are nice museums and parks.  It is much smaller and more relaxed than New York.
"Boston is the closest to NYC, so it takes the least amount of travel time. The bus is cheap, and train is expensive but comfortable. It is colder than New York, but it has a more relaxing atmosphere than New York too.  A this time of year, the colors of the leaves are beautiful." -Alena, teacher
Fort Lauderdale– Plane ($$) 4 hours
"Fort Lauderdale is a nice place to go for an easy, relaxing vacation in a warm climate." -Jamey, EC staff
Philadelphia– Bus ($) 4 hours  ;  train ($$) 1.5 hours
"Philly is nice for architecture and to walk around. It is good for a quiet weekend because it is peaceful." -Adriana, teacher
Disney World– Plane ($$$) 4 hours
Referred to as "the most magical place on Earth", Disney world is located in Orlando, Florida.  Although expensive and not very close, Disney World is definitely worth visiting.
"Disney is nice because there are a lot of parks to visit. You cannot be bored. There are statues of Disney characters everywhere. The Disney band is very convenient, because you can pay for everything with the band so you do not need money." -Keita, student
Montreal– Bus ($) 10 hours  ;  Plane ($$) 2 hours
"Montreal is my recommendation for a weekend trip, because it is close enough to New York to get to easily, but far enough away that is feels like a real escape. Because it is an old city and bilingual (French and English) city, Montreal has an almost European feeling. Just don't go during the winter!" – Emily, EC staff
Chicago– Plane ($$$) 3 hours
Chicago is famous for its jazz scene, diverse ethnic groups, and world renown architecture.  It is also full of world class art museums and stellar parks.
"Chicago is similar, but different from New York. It is a big city with a little city feeling. The architecture and mix of nationalities is amazing." -Saran, EC staff
Toronto – Plane ($$)  3 hours
"It's far away, but it's a very diverse city and a large diversity of nightlife and great museums. It's a good place for sightseeing and meeting people. And Canadians are very polite" -Alena, teacher
Would you like travel around the US and improve your English?  We have great general English programs just for you.  
Comments
comments