Nicoletta Gemelli is an Italian student currently studying English at a high intermediate level. She has been at EC New York since September first, and has another three months to go. Nicoletta shared with us some information about herself, as well as her EC New York experience.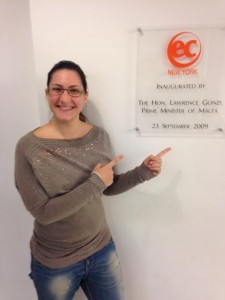 Why are you learning English?
"I worked before in a hotel as a receptionist, but I would like to change my job and try to work in a company related to importing, exporting, and international business, so I came here to study English. I am studying business English in my elective class."
Why did you choose to study English in New York?
"I came here last year for two weeks and really loved New York, so I decided to come back and try to live here for six months."
Why EC?
"Last year I came to EC New York too for two weeks, and I liked the teachers. They are good. And, I'm learned English pretty well the first time, so why not again?"
What do you like most about EC?
"I like that there are really a lot of different cultures in the same class, and we discuss a lot of different topics and have opinions from people from different countries."
What do you like most about living in NY?
"There is everything in New York. You can find it all, and it's really energetic. But you must pay attention, because if you aren't energetic, maybe New York will be too much for you."
What are your strategies for learning and studying English?
"I try to speak really a lot because that's my problem, speaking. And I try to listen really well, to more American people. I can understand my teachers because they speak very clearly, but when you go outside you can listen to real American people who speak really strong and fast. So I try to listen."
Fun facts about Nicoletta:
Last Sunday, she went ice skating in Bryant Park, and "it felt like life in a movie".
Favorite food in Italy: tortelli
Favorite food in US: cupcakes!
Favorite place in NY: top of the rock
Would you like to study English like Nicoletta?  Check out EC's intensive English program in New York!
Comments
comments