Maria Patricia Rodrigues Gomes (18, Intermediate) and Oriana Gabriela Chicco Gonzalez (17, Pre-Intermediate) are friends from Venezuela who decided to come to EC New York to study English together. They have been here for six weeks already, with another four months left. They have known each other for five years and go to high school together. Maria and Oriana answered some questions about their experience studying English together in New York and their impressions about EC New York.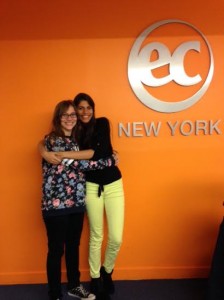 Why are you learning English?
Oriana: Next year I am moving to Miami for college, so I need to know the language.
Maria: Oriana didn't want to come here alone, so I'm with her! Also, I need to know English for university and work.
Why did you decide to study in New York?
Oriana: Because it was Maria's dream! I came here two years ago, but she loves New York, so we're back.
Maria: It's a great city for music, especially Julliard.
Why did you choose to study with EC?
Oriana: My sister was in EC Brighton and had a good experience. My mom liked EC!
Maria: Because Oriana told me to study at EC!
What do you like most about living in NY?
Oriana: I love the food. I love American food, like toast with eggs, pancakes, bacon, waffles, and bubble gum.
Maria: Everything. I have freedom here! I can't use my phone in the street in Venezuela, I can here.
What do you like most about EC?
Maria: I love my teachers!
Oriana: I love the classes, because in Venezuela they are different. Here we can play games and learn at the same time. We have fun.
What advice would you give to someone learning English?
Maria: Don't go out with another person who speaks the same language as you.
Oriana: Think in English, and go to the cinema. I went to the movies here and I understood very well!
Fun facts about Maria and Oriana:
Maria is a very good piano player, and Oriana can eat and sleep all day long. And, she's computer savvy.
You can learn English for academic purposes in New York like Oriana and Maria!  
Comments
comments