In celebration of Thanksgiving, EC New York will be having a Thanksgiving dessert feast in the student lounge on Tuesday, November 25.  Each class is encouraged to bring a favorite dessert to share with the rest of the school. Sharing food is an exciting way to share a part of your culture. Also, cooking and eating food from your home country can make you feel a little less homesick!
Some ideas for traditional American Thanksgiving desserts are pumpkin pie, apple pie, and pecan pie; however, all types of dessert are welcome!  What will you bring?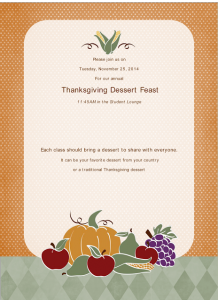 You can celebrate Thanksgiving with students from all over the world and improve your English, too!  Take an ESOL test in New York with us.
Comments
comments