Meet EC New York teacher, Amy!  Amy answered some questions about herself and her experience teaching at EC.  Here is what she has to say: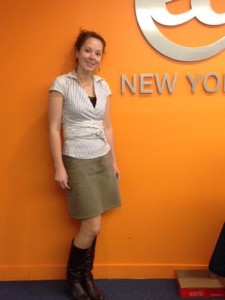 How long have you been working at EC?
A little bit over a year.
Why did you decide to become an English teacher?
I love traveling and experiencing new cultures, so I decided teaching would be a great way to learn about new cultures and share my own home town — New York City!
What do you like most about working at EC?
I love working with the students, getting to know them and helping them achieve their goals. I've met some fantastic people from all over the world, and by getting to know them I've gotten to know a little bit about their cultures, too — I've added a dozen new countries to my "travel here" list!
Share a funny/rewarding experience/story with a student or class:
I like teaching slang and idioms as they come up in class, and one day a student repeated an expression as a joke with perfect comedic timing! If you can make jokes in a different language, you've accomplished a lot!
On a more serious note, I always enjoy talking with students their last week and being able to help them reflect on the progress they've made at EC.
What advice would you give to someone learning English?
Be brave! Everyone's nervous at first, but if you push yourself to use English, especially outside of class, you'll improve more quickly. I was inspired by my students to try to use my rusty high-school Spanish skills for a week in Costa Rica, and I was surprised by how much I remembered and how much I improved, even in just a few days!
Fun facts about yourself:
1. I love donuts. I'm on a mission to try every single donut shop in New York.
2. I went to university for film and I have even written a low-budget independent movie.
3. I'm always planning my next trip. Let me know if you have suggestions!
Thank you, Amy!
You can improve your English with teachers like Amy!  EC New York offers great options for you to at our English language center in New York!
Comments
comments