Maximilian Julius Anton Seiji Schmich Yo is an 18 year old student from Germany who spent five weeks at EC New York, studying English at the Upper Intermediate level. During his time here, he participated in several school activities and volunteered for Red Cross America. Maximilian answered some questions about himself, as well as his EC Experience and his volunteer position.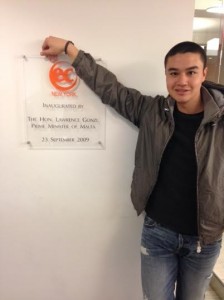 Why are you learning English?
I want to take the TOEFL test. I want to become a pilot so it is important to speak in the main language of pilots.
Why did you choose to study in New York?
I lived in Tokyo for four years and I really love big cities. I think NY is one of the most exciting places to be when you're young.
Why EC New York?
EC was recommended by my recruiter in Germany.
What did you like most about your EC experience?
To meet so many nice and amazing individuals from many different countries. And conversation class!
What do you like most about living in NY?
It's convenient and you can reach everything by foot, and so many interesting things happening here.
Tell us about your volunteer position at Red Cross America. What did you learn?
I learned many things, such as preparing for a disaster. I'm helping presentations and preparing emergency kits. For example, first aid kits, light bulbs, and water.
How did you become involved?
I am only here for two months, but I wanted to do something to help people. During my experience I met a lot of new people, and they all have great stories. They're all doing it for volunteering, so they don't make money. The reason why they work for the Red Cross is amazing. They helped out after Hurricaine Katrina, Sandy, 9/11, and others.
When do you have the time to volunteer?
I go to the Red Cross after my morning class, three times a week. I stay there for 4-5 hours.
Thank you for your volunteer service, Max!  
Our English language center in New York offers programs to help you improve your English.  
Comments
comments