Decorating homes with lights for Christmas is a common holiday tradition throughout the United States.  The Brooklyn neighborhood Dyker Heights is perhaps the most well known place in New York to witness these spectacular decorations.  The neighborhood is easily accessible by subway (79th Street Station on the D line, and 18th Avenue Station on the D line) and you can make a full (and inexpensive!) evening of exploring the gaudily lit streets with a slice of pizza from Franks.
According to residents, this home extreme home decorating tradition has been an annual happening since the 1980's.  It is so well known that there are even tour groups that go through the neighborhood.  Because of the neighborhood's reputation and friendly, yet competitive nature of the decorations, many of the neighborhood's home owners hire professional Christmas decorators to keep impressing the spectators.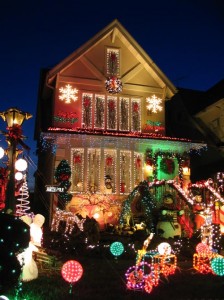 More information for visitors:
Nearest Subway Station: 79th Street Station (D) or 18th Av Station (D)
Best viewing streets: 82nd-85th Street
The lights turn on around sunset and remain lit until about 1:00 AM.
You can study English in New York and learn about fun American holiday traditions, too!  EC is an English language center in New York.
Comments
comments