New York City has the world's largest Jewish population outside of Israel.  Approximately 12% of New York City's population is Jewish, with over 1,500,000 living within the five boroughs.  Because of these high numbers and Christmas occurring at nearly the same time, Hanukkah, the Jewish celebration of light, is another widely celebrated holiday in the city.  There are several symbols of Hanukkah which are mixed in with the other holiday decorations.  The most common symbol of the holiday is the Menorah.
The Menorah is a special candelabra with eight individual arms for candlesticks.  Each candle represents each night of Hanukkah, celebrated over eight nights.  We light the candles to celebrate the miracle of the lamp oil lasting for over a week during a time of war and darkness.  During the holiday season, the world's largest Menorah is located at Grand Army Plaza in Manhattan, at the corner of 5th Avenue and 59th Street in front of the Plaza Hotel.  The Menorah is 32 feet high and weighs 4,000 pounds!  The holiday begins on December 18th when the first candle will be ignited.  A new candle will be lit each day until the December 23rd, the last night, right after each sunset.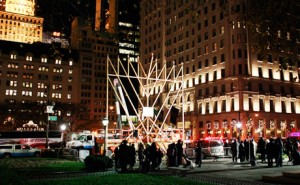 How to get there by subway: N/R/Q train to 5th Ave/59th Street Station
You could learn at our English School in New York with other students from around the world!
Comments
comments