Ice skating is a favorite winter pastime in New York.  There are plenty of places to go ice skating around the city, with each location offering a unique experience.  There are rinks to match every budget and experience level.  Below is a list of the 10 most popular places to go ice skating in the city, and how to choose the best rink for you.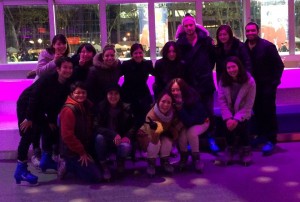 EC NY students ice skating at Bryant Park
Perhaps the most well known on this list is The Rink at Rockefeller Center.  Although it is quite expensive to skate here ($30 for adults, plus $12 skate rental fee), the experience is incredible.  Because only 150 people are allowed to skate at a time for 90 minutes, the ice is never too crowded, which is rare for rinks in the city.  You skate just below the world famous Christmas tree surrounded by world famous buildings and spectators.   Warning: the line can be long.  Be sure to arrive early!
The Rink at Winter Village at Bryant Park is celebrating its 10 year anniversary.  The rink is enormous and the scenery of the surrounding park is breathtaking.  Although there is a $15 skate rental fee (bring your own skates!), skating in the rink is actually free.  Before or after you skate, be sure to visit the nice boutiques and food stands for a snack and gift shopping.  The Winter Village is also open until March!  Warning: because it is free, the rink can get quite crowded!
On the East side of New York's most famous park, Central Park, is the Wollman Rink.  Skating costs $18-  much less than Rockefeller center, and renting skates costs $8.  This rink is unique in that they offer skating lessons, there are hockey games, ice dancing shows, and more.  Warning: there is a $5 spectator fee!
The Rink at Brookfield Place is located along the water in the southern part of Battery Park.  Open through March, it only costs $15 to skate and $5 to rent skates.  From this rink you will have an incredible view of the New York City Harbor and the Statue of Liberty, as well as the sky scrapers in the Financial District.
South Street Seaport has its own ice skating rink, open until the end of February.  Costing only $10 to skate and $5 to rent skates, it is one of the cheapest options.  This rink has fun extras including curling lessons and vintage skate parties on Saturday nights.  On Saturday nights, there is a live band playing music from the 1920's and 1930's.  Other nights there are sessions held by live DJ's for more modern, upbeat music.
You can study English in the US too!  EC New York offers General English courses in New York for you.
Comments
comments