The free class schedule for January is ready!  One great constant feature on our monthly activity calendar is our free class offerings.  This month, we will have conversation, listening, writing, and grammar classes.  Students from all levels are welcome to join and take advantage of this great free program.  Please remember to sign up for all free classes in the activity binder, which is located at the front desk.
How many classes will you attend?
EC New York has great programs for you if you would you like to improve your English and study English in the US!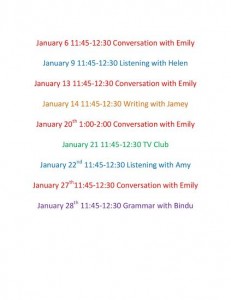 EC New York is an English language center in New York that can help you improve your English!
Comments
comments