In addition to Christmas trees and Hanukkah menorahs, you may notice decorations for another holiday, Kwanzaa.  Since it was first celebrated in the 1960's, Kwanzaa is a week long celebration of African heritage in America.  The holiday begins on December 26th and ends on January 1st.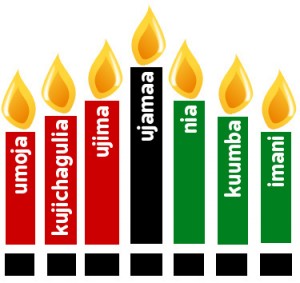 Kwanzaa celebrates the seven principles of Kwanzaa, with each of the seven days dedicated to one particular principle.  The seven principles of Kwanzaa are:
Umoja (Unity): "To strive for and to maintain unity in the family, community, nation, and race."
Kujichagulia (Self-Determination): "To define ourselves, name ourselves, create for ourselves, and speak for ourselves."
Ujima (Collective Work and Responsibility): "To build and maintain our community together and make our brothers' and sisters' problems our problems, and to solve them together."
Ujamaa (Cooperative Economics): "To build and maintain our own stores, shops, and other businesses and to profit from them together."
Nia (Purpose): "To make our collective vocation the building and developing of our community in order to restore our people to their traditional greatness."
Kuumba (Creativity): "To do always as much as we can, in the way we can, in order to leave our community more beautiful and beneficial than we inherited it."
Imani (Faith): "To believe with all our hearts in our people, our parents, our teachers, our leaders, and the righteousness and victory of our struggle."
You can take general English courses in New York, and study English with other students from around the world!
Comments
comments