NINA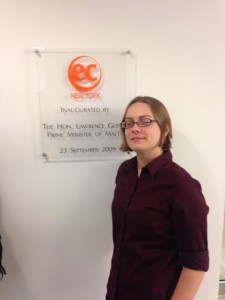 Nina has been teaching English at EC since June and currently teaches Low-Intermediate 1A and Intermediate 1B.  
Why did you decide to become an English teacher?
So many reasons! I love languages, especially learning about how they work. I really enjoy teaching and love that I get to learn new things all the time from my students.
What do you like most about working at EC?
I love getting to know so many different people in my class. Even though I'm not the best at remembering names (if I've ever forgotten your name, I'm sorry!), I really enjoy talking to people from different backgrounds. Even though I'm the teacher, my students often teach me something new!
Share a funny/rewarding experience/story with a student or class:
The funniest experiences are often when students use slang I don't expect. For example, one student used the phrase "cray-cray", which means "crazy", in the middle of a conversation. She sounded just like my sister and I laughed so much!
What advice would you give to someone learning English?
Practice. If you don't use it, you lose it! From personal experience, if you don't take the time to practice whatever language you are learning, you will forget things and lose confidence. So practice whenever you can!
Fun facts about yourself:
1. I can juggle. Not very well, but I've been teaching myself how on and off for a few years.
2. I practice archery. I started a few months ago and it is so much fun! I've taken students to learn archery as an EC activity. It was a blast and I plan on doing it again, so keep an eye out for that!
3. Nina is actually a nickname. My real name is Christina, but no one ever uses that, not even my family!
Thank you, Nina!  EC offers English Language courses in New York to help you improve your English.  
Comments
comments