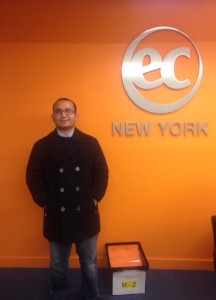 Ilker, from Turkey, is about to complete his five month study period at EC New York. He is currently learning English at an Upper Intermediate level.
What do you do in Turkey?
I was working for a foreign trade export company which is selling sandals and slippers to the Middle East and Western Europe.
Why are you learning English?
To find a good job and improve my position in the foreign trade sector.
Why did you choose to study English in New York?
Because transportation conditions and the underground are better quality than other cities in the US. The second reason is that there are so many different nationalities living here so it's a good chance to understand the whole world and colors. In my sector, it is very important to know customers' culture to sell at good prices.
Why EC NY?
Because my agent informed that it is a good school in the US. And, EC is quality and affordable.
What do you like most about living in NYC?
There are a lot of different people from different nations and there are a lot of movie shows and theaters.
What do you like most about EC?
The teachers are so special and clever, and the staff is very kind and friendly.
What advice would you give to someone to improve their English?
They should focus on their listening as the first step. After that, even if they have culture conflicts or differences, they should push the conditions to find native friends or Western European friends, which are in the same language family, like German.
What is your favorite place in NYC?
Brooklyn Bridge and High Street subway station.
What is your favorite thing to do in NYC?
Walk across the Brooklyn Bridge and walk in Central Park.
Fun facts about Ilker:
I am clumsy
I use a lot of puns in Turkish. My friends think it's funny!
My favorite food in Turkey is kebab
My favorite food in New York is bagels
You can improve your English like Ilker!  EC New York offers many programs for you, including studying at our English School in New York. 
Comments
comments