Times Square on New Year's Eve is the most famous and festive New Year's celebration in the world.  Although it is free and full of concerts, music, dancing, and of course- confetti, celebrating the new year in Times Square can be quite stressful if not planned accordingly.  Here are some tips for EC students to enjoy your night in the best, and safest way.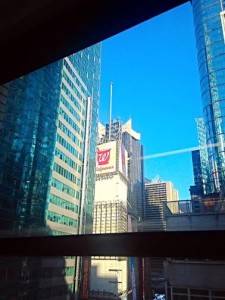 View of  One Times Square from EC New York's classroom
Tips for NYE in Times Square:
1.  Arrive early.  The area becomes crowded as early as 2:00!  And remember, even after you arrive, you have to remain in "your spot" until the ball drops.  If you leave to eat something or use the bathroom, you could lose your place.
2.  Come prepared.  Be sure to go to the bathroom before hand (Port Authority Bus Terminal has free public restrooms) and bring plenty of snacks and water.  With the chaos of the holiday, it will be difficult to purchase food and drinks.  Also, make sure you dress warm and wear comfortable shoes.  Please remember that backpacks are not permitted, so it's a good idea to wear a jacket with many pockets.
3.  Be patient, and expect crowds.  There will be about one million people there.  Space will be limited.  And, you will have to wait many hours until midnight.  But hang in there!
Happy New Year, EC New York students!  EC New York is an English language center in New York.  
Comments
comments