Patricia Di Nita from Liechtenstein has been studying at EC New York since September, and will continue studying with us until May. She began learning at an upper intermediate level, and is currently taking the Cambridge course. For the first time, Patricia was given the special honor of presenting an AY lecture to EC staff, teachers, and other students. Patricia shared some information about herself, why she is learning English, and about her lecture.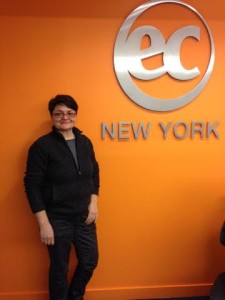 What do you do in Liechtenstein? 
I am a teacher for children with special needs. I did this for nearly 20 years, so I took a sabbatical break for a year. Just for myself, for my own benefit.
Why are you learning English?
I love languages, and I love to be able to speak the language in the country I visit. I don't know why, but I like English. Most of the movies are in English.
Why New York?
Once I decided to improve my English, I had two cities to choose from. I love San Francisco. It's an amazing city. I also like New York. I always wanted to experience New Year's Eve and Christmas in New York, and I thought that New York would offer more possibilities. I think it would be boring to spend more than six months in San Francisco. New York has more cultural things.
Why EC?
I was surfing the internet and I found this website for an organization for language travel and stays. I read the EC website and chose the school. Also, EC has less Swiss students than all of the other schools.
What do you like most about living in New York?
For me, at the moment, to be among a huge crowd, but to be on my own at the same time. I can be a part of a group, but if I don't want to, I can easily be by myself at the same time. It's exactly what I needed when I came here. When you don't want to be alone, you just talk to someone!
What do you like most about EC?
I had the chance to have a great class. It was very dynamic and we had fun. I had a great teacher and I learned a lot. When I came here, I thought my English is not too bad. But then I arrived here and I was like "wow"! In English, there is a word for everything, and for one thing, you have three words for it, and it depends on the circumstance when you use which word. Now if I watch a movie that I have already seen at home, I understand so many more words that I didn't even hear before. I learn a new word and suddenly it's everywhere. For example, the word "lotion". I just learned it, and I see it everwhere!
What advice would you offer to someone to improve their English?
For me personally, I take advantage of everything EC offers, and there are a lot of ways to improve yourself- but with English and social life. Some students come here and don't even know that they have a tutor. The free classes too. EC covers everything like listening, writing, and speaking.
                           Patricia is the first EC New York student to present an AY lecture.  This lecture is attended by all academic year studnets, as well as many teachers and staff.  Giving the presentation requires a lot of work and preparation.
How did you become involved in presenting an AY lecture?
It started as a joke because I am in the digital story AY elective. I had two topics and couldn't decide which one to do. So, I prepared for both- one as a digital story and one as a lecture. A few days after my teacher came to me and said "do you want to do it?", and I said "why not?"
Was it challenging?
Yes. I am a teacher but I' not used to speaking in front of groups of adults and so loud and clear in another language. Also, in front of English teachers too and native speakers.
How did you do it?
I created a storyboard, power point presentation, and gathered all photos. The whole thing was mine. My tutor edited it to see if my grammer was correct. I did the presentation just for her to see if I pronounced everything right.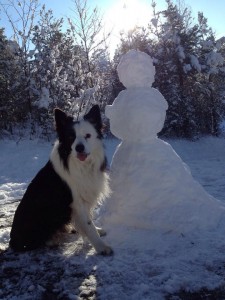 Patricia's dog, Chinook
Fun facts about Patricia:
Favorite food here: Japanese/sushi
Patricia has a border collie named Chinook.
Comments
comments