Barbara Falcetti De Lima is a student from Brazil who studied at EC for a month. During her stay, she improved her English by 9.5%, which is an improvement rate of 3.17% per week! That's an amazing accomplishment!
Barbara shared with us some of her favorite things about studying at EC New York, why she would recommend it to other students, and what advice she would give to others who want to improve their English.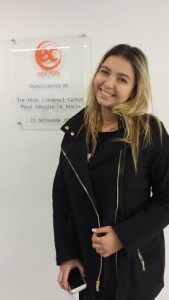 Congratulations, Barbara!!
"I would recommend EC NY to other students because it is a school with excellent teachers who provide lessons that you can learn English in a dynamic way. My favorite thing about studying at EC NY was to have had the opportunity to make friends from all over the world and learn about different cultures and also because the school is very well located and close to everywhere."
"Try to speak English all the time, even if you meet someone from your country. And don't be afraid to make mistakes, you will be practicing your English and that's what matters."
You can improve your English like Barbara with EC's intensive English courses in New York!
Comments
comments