February's activity calendar is AWESOME!
We are going  all over the city this month.  This month's activities include happy hours every Monday, karaoke, Ethiopian and Mac N' Cheese dinner nights, movie nights, game nights, hot chocolate outings, and archery.  And like every month, we are offering plenty of free classes for your educational pleasure.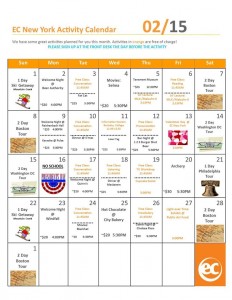 What activities will you join?
EC offers English classes in New York and a full activity calendar for you to enjoy.  
Comments
comments