Priscila Maciel Cavalcanti just completed one month studying at EC New York.  Check out what Priscila liked the most about her experience at EC New York, and her advice to other students!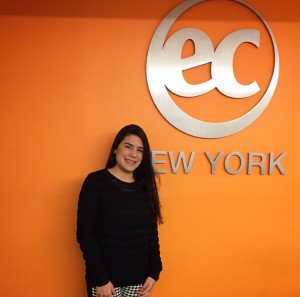 Why would you recommend EC New York to other students?
For me, having studied at EC New York was a really nice experience. I think the methods of class are perfect to practicing the language and learn more, because always the teacher are stimulating the students to talking with each other, express your opinion and answer questions. I recommend EC to others students because exchange is an incredible experience and learn English is very important for the academic and professional future of the all people, and haven't anything better than can make an exchange and study in a modern place, with dedicated teachers.
What were your favorite things about studying at EC New York?
I made some friends from Turkey, Saudi Arabia, Thailand, South Korea, Venezuela, Japan and I definitely loved studying with persons for other countries because I could speak in English, practice the language and learn a few about your cultures. That is very interesting to me.
I really like another thing of EC New York… The school is very close to Times Square, so everyday I went to Times Square with my friends and was really fun and nice for us.
What advice would you give to students for improving their English?
I just had one month for study in EC because were just the time of my vacations at medicine college in Brazil, so I decided to enjoy all the time at class for participating and talk with my classmates, answer the questions of the teacher and make questions when I had doubts. I think speak English outside of the school is very important for try to make your English be better. So the student need practicing day by day, on the street, on restaurants, in your home, with your friends, with the american people. Everything depends if the student enjoy your time outside and inside the class to practicing the language.
Congratulations, Priscila!  You can improve your English too with EC's English classes in NYC!
Comments
comments