Augusto Sergio Caetano De Jesus studied at EC New York for 2 weeks at a high intermediate level. He shared some information about himself and his EC Experience.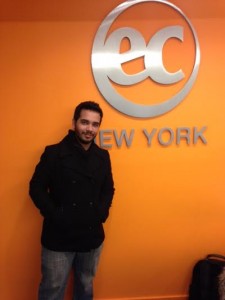 What do you do in Brazil?
I work in computer networking. I work for myself and have my own company for now. I just graduated last year and studied computer network.
Why are you learning English?
I studied English in Brazil for 3 years before coming here. In my area that I work it's really important to speak English and I want some opportunities. To stay in contact I need good English.
Why did you choose to study in New York?
Because it's New York! I always see it on television and movies, the landmarks. Everybody wants to come to New York, I guess. I don't know anyone who wouldn't!
Why did you decide to study at EC NY?
I asked a travel agency in Brazil and they recommended EC. They gave me some options based on price and location of the school, and I chose EC.
What did you like the most about your EC Experience?
That is hard! I liked everything here. The environment is very friendly, teachers are amazing. They teach very well. I had extra things to do here, like the Fat Cat Lounge and conversation class. You really can learn here. Everything was good for me. hard.
What do you like most about living in NYC?
I think the landmarks. The Statue of Liberty and Times Square is amazing.
Where is your favorite place in NYC?
Times Square.
What advice would you give to someone who wants to improve their English?
Speak! Try! Speak with no people from your own country. Don't be ashamed to speak and try. Study hard!
Fun facts about yourself:
"I sing (in the shower!) and play guitar."
Thank you for sharing, Augusto!  Would you like to take a New York English course?  Try EC New York!
Comments
comments