Elena Landa just graduated from EC New York after studying with us for over a year. She began studying at a pre-intermediate level, and finished in upper-intermediate. That is an improvement of five levels! Congratulations on your huge accomplishment!
What do you do in Venezuela?
I am a graphic designer and fashion designer.
Why are you learning English?
I need English for my career. I would love to start my brand in the US. Also, because I always wanted to learn English, it's a really important language that you should learn. It is a way to communicate with people from around the world. I'm interested in meeting new people all of the time, so I need it.
Why did you choose EC?
I chose EC because I have a close friend from school who works for a company in Venezuela to help people find English schools. I was looking for an English course so one day we met together in a coffee shop and I told him what my plan is. He recommended EC.
Why did you decide to study in NYC?
My girlfriend lives here. She's been living here for four years. After two years of being together, it was time.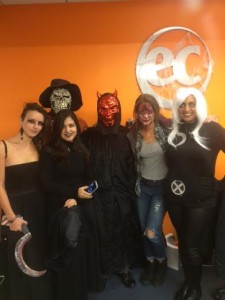 What did you like the most about EC?
I loved the experience. All of my teachers. I love them! I really appreciate them because I think I learned a lot because of them. And also, it's a really great experience because I met a lot of people and I can learn about their culture. It was so different for me. You have to learn how to argue with different cultures, and you have to respect it. The environment is really good. And everyone at the front desk and academic office is amazing!
What do you like most about living in NYC?
You can find so many different things to do every day. The city never stops, like me. That's why I love it!
What advice would you give to someone who is starting their first week at EC?
Try not to be shy. You are here to make mistakes. So try to do it. It's not a problem. You're here to learn. If you want to know the meaning of a word, don't translate it into your language. Try to look in an English dictionary. If you don't understand the dictionary, try to look up an image. Try to get it. It's a mistake that many people make here. Why translate? That's not how you learn the words.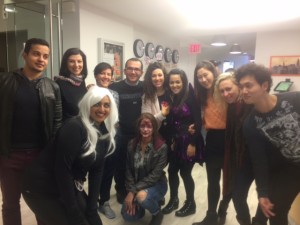 Fun facts about Elena:
I am very extroverted and funny!
I encourage all of my partners and classmates to speak and laugh.
My favorite place in New York is the Brooklyn Bridge. And Williamsburg Bridge.
My favorite food in New York is pizza. I love the pizza here.
Congratulations on your amazing progress, Elena!  We will miss you and your vibrant energy and smile.  Best of luck!  You can improve your English like Elena at EC's New York ESL program.
Comments
comments