Natia Kvantrishvili from Georgia just finished her four week study at EC New York, learning at a high intermediate level. Natia shared with us some highlights of her experience: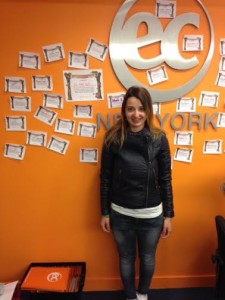 What do you do in Georgia?
I was born in Georgia, but now I live and study in Germany. My actual address is in Munich. In Germany, I study North American studies. I want to go back to Georgia and work in foreign policy of American diplomacy.
Why are you learning English?
Because I need it for my studies, my future career, and also in every day life.
Why did you choose EC?
I heard from my friends that they took some English courses and she gave me a good recommendation.
Why NYC?
Because I've never been before, so I came here for the first time. Maybe next time I'll go to the West Coast for the weather, but I will come back to New York in the summer.
What did you like most about your EC experience?
Very friendly atmosphere, teachers and students also. I met very interesting friends here from all over the world.
What do you like most about living in NYC?
Everything because I love the city. I love everything here. The atmosphere and energy that New York has- you can feel it.
Fun facts about Natia:
My favorite food is spaghetti (any Italian food!).
My favorite place in the city is outside of Lincoln Center.
I love the local restaurants here!
EC New York is a New York ESL center in Manhattan where you can improve your English!
Comments
comments