March 17th is Saint Patrick's Day.  At EC New York, we are encouraging all students, teachers, and staff members to wear green.  In New York City, St. Patrick's Day is a celebration of all things Irish.  There are plenty of ways to celebrate in the city, but the parade is the most famous way of celebrating.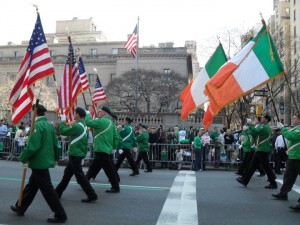 Did you know that the St. Patrick's Day Parade in Manhattan is the oldest parade in the world?  The tradition began before the Declaration of Independence was signed!  Every year on March 17th, over 150,000 marchers participate in the world's largest celebration of the Irish holiday.  The parade will take place beginning at 11:00, starting at 44th Street and 5th Avenue, marching up 5th Avenue and ending at 79th Street near the Irish Historical Society.  If you would like to watch, we suggest arriving as early as possible for the best views.  You can also enjoy the parade on television, or in a local Irish pub with a pint of Guinness in your hand.
Have a great St. Patrick's Day!  Enjoy, and be safe!
EC is a New York ESL school in Times Square where you can improve your English!
Comments
comments