Odete Cadete (Obama) from Angola and Portugual just completed her six month study period at EC New York, and moved up from elementary to low intermediate. That is a huge accomplishment! She shared some information about herself, some highlights from her experience, and advice for future students.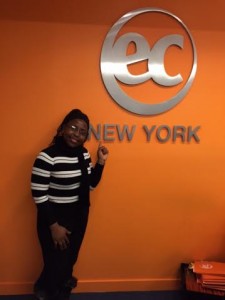 What do you do in Portugal?
I studied biotechnology. Now I work in a hospital in the area of quality control management. I use International Standard Organization and create checklists for different area in the hospital.
Why are you learning English?
Because it's very important for my job. I'd like to travel more. I think if I can learn English very well I will have more opportunity for promotions and I will travel more, definitely. I really like traveling.
Why did you choose EC?
Because when I began to search I found different schools. But when I sent an email, I felt EC gave me a quick rapport. I feel comfortable. I talked to someone in Malta who called three times and we talked. He helped me to find a homestay. I chose EC.
What did you like the most about EC?
I think EC has good technology for students. EC has a good professional team. I feel very comfortable. If you feel you need help or something you can find a professional to help you. I think it's really important. I found a special community. Also, the AY34 program with Helen is special. The program is important because I can bring my doubts and worries, and I work with Helen to correct me and compare my tests from before and now.
Also, activities. We had pajama day at EC, and I brought my pajamas! For me, it was so fun and very important. EC creates opportunities for students to stay closer together and connect more.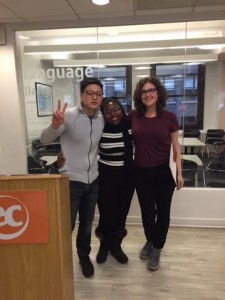 What do you like most about living in New York City?
Culture. I live in a homestay and my family is an American family. I loved Thanksgiving. I learned a lot of information about food, culture, and people. It's very important to learn English, and the country too. My host family became my internal family. My host dad especially.
Share an EC NY highlight:
When my teacher Colette brought her guitar to class when I started elementary level. She played the guitar and the whole class sang together! It was an emotional moment.
Advice for someone about to begin at EC:
If someone chooses to study at EC, don't be shy! Feel comfortable. I know it's not easy the first time and first experience. I think after one or two months people start to make friends. It's difficult. If you stay for more than 3 months it's good to find a program, like the AY. AY has free classes, workshops, and with AY we can bring homework and compare results and correct mistakes. It's the best way to continue to grow, very important. Also, to visit different places. You need information? Talk! Use the information learned in school in real-life. Like museums- culture, and art, and it's free!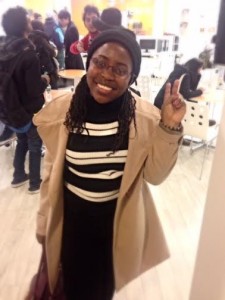 Favorite places in New York:
Central Park and Statue of Liberty. I had the opportunity to go to another state. Boston is a romantic city! I saw MIT and Harvard. That was my dream when I was a teenager! Now I feel my dream became a reality. I really came and I feel really good!
You can improve your English like Odete at EC's New York ESL school!
Comments
comments