Kevin Rossel is from Switzerland, and is currently studying at an intermediate level. Kevin shared some information about himself, and how he can help you as a student ambassador.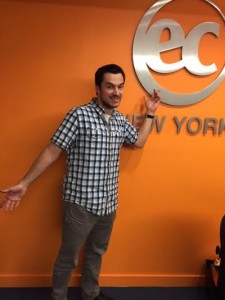 Where are you from?
I'm from Switzerland, the French part.
What do you do in Switzerland?
I work for a watch company. I make some little pieces.
Why are you learning English?
For my job and it's also a personal reason (it's very useful for travel).
Why did you choose to study at EC?
Because when I booked by travel, the agency told me that it is a very good school. Also, the website and the school looks very great.
Why New York City?
Because it's the "American Dream". Everybody dreams to live in the Big Apple one time in their life.
What do you like most about EC and living in New York City?
EC is a very good school. I learn a lot. I meet many people from different countries. I really like that because it's an amazing experience with many beautiful meetings. New York isjust a crazy city, every time you have something to do. That's amazing. It's also a very beautiful city with many parks and wonderful places.
Why are you a student ambassador?
I am a student ambassador because it's a good opportunity for me. I'm going to meet many people and that's an amazing thing. Also, I like to help people with my experience when I can.
What activities are you planning for next month?
My activities are: Movie Fast and Furious 7, Swiss dinner at Maria's Mont Blanc Restaurant, and Soup Dumplings at Shanghai Joe's.
Students should approach me with questions about… sporting events, nightlife, food, places (like Statue of Liberty or World Trade Center, etc.)
Fun facts about Kevin:
I like to go out with my friends, and I like fun things like bungee jumping in Switzerland, and sometimes I spend my free time as a DJ at some clubs and bars.
Thanks, Kevin!  You could be a Student Ambassador like Kevin at EC, a New York ESL school.
Comments
comments