Easter is both an important Christian holiday and one of the first signs of spring in the city.  Even if you do not partake in the religious traditions, there are plenty of ways to participate in the celebration.
The Amazing Easter Egg Scavenger Hunt- Easter egg hunting is an American Easter tradition of searching for eggs, bunnies, and candy in a yard or house.  Every year, POGO Events organizes an enormous, city-wide scavenger hunt!  Find a couple of teammates and search together.  The winners will receive New York City gift packages.  find a couple of teammates and join in this huge, city-wide scavenger hunt!  The event will be on Saturday, April 4th, and the group meets at Slattery's Midtown Pub, at 8 E 36th Street at 1:30 pm.  Wear comfortable shoes!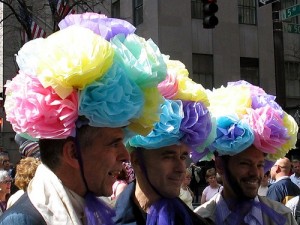 Easter Parade and Bonnet Festival- starting in the nineteenth century, wearing large, elaborate hats on Sundays became very fashionable for women.  This eventually turned into an annual tradition where people show off the most ornamented and outrageous (homemade!) hats in a festive Easter parade.  The parade runs up 5th Avenue from 49th Street to 57th Street, and it is free to watch.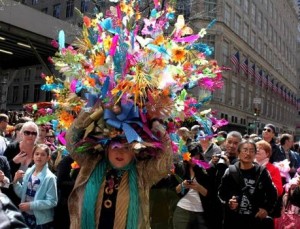 Macy's Flower Show- For two weeks, the famous Macy's Herald Square becomes an incredibly designed garden, making the store resemble a scene from Alice in Wonderland.  The expertly crafted plants and flowers cover the entire store, and the place smells absolutely wonderful and is bursting with color.  Also, during this time, Macy's offers workshops and classes on floral design and creating terrariums.
EC is a New York ESL center where you can improve your English!
Comments
comments