Gaetano Emanuele Torrebruno studied at EC New York for three months, starting at a pre-intermediate level and finishing at an intermediate level. He shared some information about himself and some highlights of his EC Experience.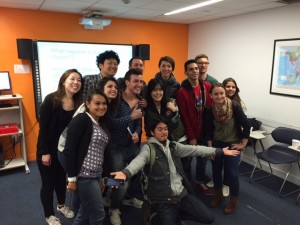 What do you do in Italy?
I am a high school student, but I want to study business.
Why are you learning English?
For knowledge, and it's important for business.
Why did you choose EC?
Because I found a lot of news on the internet so I supposed it was good. And it has a very very very good reputation.
Why EC New York?
Because New York is a very beautiful place.
What did you like most about EC?
Extra free classes! (Especially Tuesday morning conversation class)
What did you like most about living in New York City?
In NYC, you are free and you can make and do what you want.
Share a highlight from your time at EC NY:
We wrote a song in the classroom and I remember all of the words of that song. So I improved my knowledge.
What advice would you give a new student?
Write all of the new words that you hear in the classroom.
Fun facts about Gaetano:
I play soccer well.
I write everything in the classroom- even not important words
Favorite food in Italy: pasta della nonna, which means grandmother's pasta
Favorite food in NYC: macaroni and cheese!
Congratulations, Gaetano!  You can improve your English like Gaetano at EC, a New York ESL center.  
Comments
comments