Meet your new Student Ambassador, Marlene!
"Do you like to travel? So do I! Let's widen our experiences."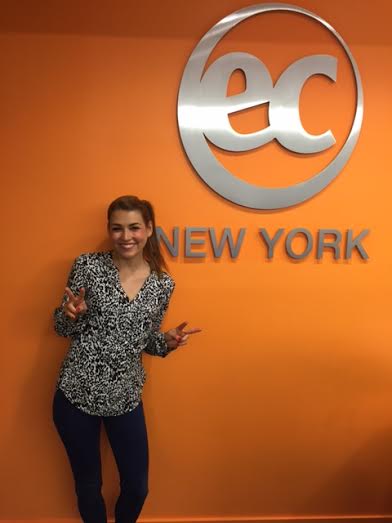 Where are you from?
I grew up in a region in Switzerland where nobody wants to come from. St. Gallen is quite famous for an ugly Swiss German dialect, but St. Gallen is also very popular and well known for typical food called BRATWURST! I'm proud to be from the Eastern part of Switzerland, despite the dialect.
Why are you learning English?
I'm learning English at EC because I really like the language and I would love to speak fluently in the near future, otherwise I would never be able to understand the jokes at Comedy Cellar.
What do you like most about EC?
After a 3 week English course at EC Cape Town in 2014, I'm a big fan of EC. It is such a modern school and is well organized. The welcome on your first day is hearty and I appreciate the amicable atmosphere.
What do you like most about living in New York City?
As Frank Singatra sang: "If I can make it there, I'll make it anywhere, it's up to you, NEW YORK NEW YORK!" The Big Apple gives you a chance, no matter where you come from or what you look like. Take a huge bite and enjoy the taste of The Big Apple.
Where is your favorite place in New York City?
STRAND Bookstore, close to Union Square! I love the well-organized mess and literally to get lost in this overwhelming bookstore. Also, it's nice to rent a bike and explore the Hudson River Greenway/Bike Lane, the most heavily used bikeway in the United States!
Students should ask me about…
Definitely sports. Students are also always welcome to join in for a 10k which I run twice a week in the magnificent Central Park. Also, I admit that I'm a shopaholic. Ask me where to shop at bargain prices. Do you like to travel? So do I! Let's widen our experiences.
What is your favorite food?
SUSHI by far, but not and then I also eat Thai food, hummus and NYC bagels!
Do you have any hidden talents/skills?
To be honest, I didn't figure it out yet. Maybe that's the reason why I try every upcoming new sport. I keep faith in finding my hidden talent.
What languages to you speak?
German, Portuguese, Spanish, and English.
Also– I'm crazy about travelling, due to the fact that I worked 4 years as a flight attendant I was able to discover a lot of different places. If you like to have any suggestions…I'm happy to assist!
EC is an ESL New York school where you can improve your English and meet people from all over the world.
Comments
comments