Minah is a Student Ambassador from South Korea, currently studying English at an advanced level.  She is working towards becoming an English teacher in Korea, and has a lot of information to share!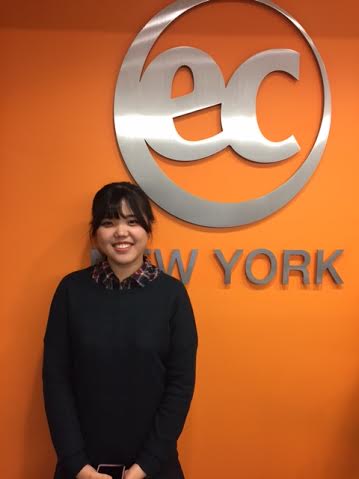 Where are you from?
I'm from Seoul in Korea. Seoul is the capital of Korea. I had lived apart from my family because of the school for 4 years before I came to New York. Actually, this is my first time to live in a foreign country, though.
Why are you learning English?
I want to be an English teacher in Korea. English has been my favorite subject, because we can communicate with much more people through it. Also, I want to be a good teacher who helps the students with patience and love. Korea is one of the countries where a lot of teenagers are suffering from stressful pressure to go to good universities. So, I want to help them to realize how valuable they are without any condition.
What do you like most about EC?
What I like the most about EC is that I can feel I'm in the WORLD. EC has a globalized atmosphere where I can speak and use English in real situations. There are many students who are enjoying learning English. We can have conversations and introduce our various cultures to each other. Of course, it is not always easy to use English. I sometimes struggle to deliver some meanings to others. However, we are LEARNING. That's why we're here. Also, I love teachers in here who help us with great attitude. They are always open, so I can talk about my English skills without difficulty.
What do you like most about living in New York City?
Actually, I live in New Jersey. However, I think NYC is the hottest city. It never stops. There are so many famous places near to you. You can go everywhere you want to go.
Where is your favorite place in NYC?
My favorite place is Central park where there is a huge place filled with the GREEN grass. It makes you relaxed. Last week, I played Frisbee and played catch there. I twas awesome!!!! Also, I like Chelsea Market too, because there are so many interesting shops there. I really like the record shop there.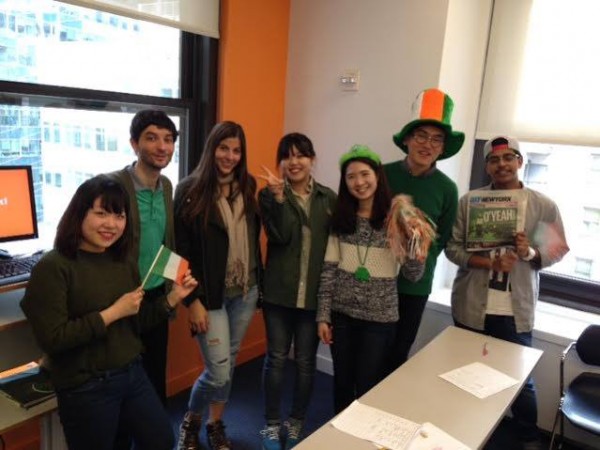 What is your favorite food?
My favorite food is Tuckbokki which is very famous to Korean girls. It is made out of Korean traditional pepper sauce and rice cakes. When I was in middle school and high school, I used to eat it with my friends after school. It's very Korean. I cook Tuckbokki for myself in here once a week at least. Also, I like chicken regardless ways of cooking chicken. I love fried chicken, steamed chicken, boiled chicken, baked chicken- everything!
Do you have any hidden talents/skills?
I can play the piano well. I am not that good at playing classical music, but I'm quite good at playing songs people can sing. This is because I've played the piano in church since I was 12. Actually, I am 22 years old now.
What languages do you speak?
Korean and English. (Also, I can speak a few sentences in Japanese.)
Anything else?
Let's travel in NYC. I still have so many places I've never been!!
At EC ESL New York center you can improve your English and meet new friends from all over the world!
Comments
comments