Bruno Bottega from Porto Alegre just completed his four month study at EC, a New York ESL center.  He began studying at an upper intermediate level and finished in advanced. Here is his EC experience: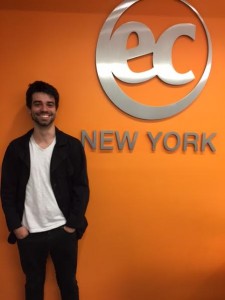 What do you do in Brazil?
I am a salesman. I graduated with a degree in digital communication.
Why are you learning English?
Because I never had English classes before. I learned my English from the internet and video games and I needed to have something more formal to know the rules and understand how the language works. And to feel confident with speaking and writing. It's important in the business world.
Why did you choose to study with EC English?
Because I feel in love with the magazines and materials. When I saw the pictures of the school I had no doubts that this is the one.
Why did you decide to study in New York City?
New York has been my dream since I can remember. It's not the biggest city in the world but the most cosmopolitan in the world. I love the vibe here. Everyone is in a hurry and you can find everything you can imagine. I grew up in a small city and always hated it so I needed to see the flip side, so that's why I chose it.
What did you like most about your experience?
I learned a lot about grammar and realized that I didn't know a single thing! I kind of could speak but that was all. Also, I was amazed by how helpful the staff was. Unbelievable.
Share a highlight: Something with Drew. During breaks and after classes. I couldn't take English for Work but Drew was so helpful and actually gave me a lot of advice. He helped me with my resume.
What did you like most about living in New York City?
There's always something different. I walk every day and every day I find something entirely different from what I saw yesterday. You can't get bored in this city.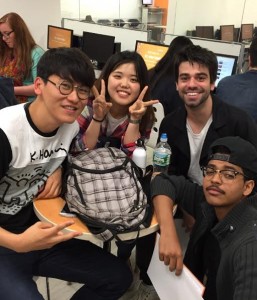 What advice would you offer to a new student?
Don't spend time at home! I can't emphasize this enough. Because people seem to be home all the time. Don't spend time at home!
Share some fun facts about yourself:
I can't understand accents very well, so once I took a cab trying to go to the East Village…. and ended up in Harlem.
My first day here, I didn't know how to tip. I told the guy "20%", and he thought I meant a discount. And he got angry.
Favorite food: Italian food
Congratulations, Bruno!  We will miss you.
Comments
comments