"I'm Lena, I'm 19 years old, and my goal is to call this city my home someday."
Lena Thuermer from Frankfurt, Germany studied English for 4 weeks at EC New York at an Upper Intermediate level. This was her second time here! Here is what she had to share about herself and her EC Experience: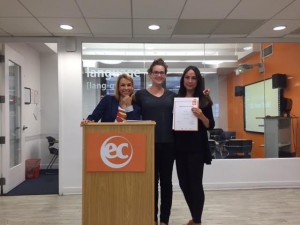 Why are you learning English?
I'm learning English because I love the language and I would like ot be able to speak it fluently.
Why did you choose to study at EC?
I've been to EC before, and back then I chose EC because the website and the courses were really appealing and since I liked it so much the last time, I decided to come back.
Why did you decide to study English in New York City?
New York is an awesome city and no matter how often you visit this city, you'll always discover something new!
What did you like most about your EC experience?
Definitely my teachers! So far I only met great teachers at EC and the lessons are always fun and educational.
What did you like most about living in New York City?
The diversity concerning every aspect! The diversity of people with different ethnic backgrounds is amazing and so is the city itself.
Share a highlight or specific memorable experience:
My favorite experiences are always the walks in NYC, it's so nice to just explore the city while walking through the different neighborhoods. As well as Broadway shows! I can definitely recommend "Finding Neverland"!
Where is your favorite place in New York City?
My favorite place in Manhattan is Washington Square Park.
What advice would you offer to a new student?
Ditch the subway and walk! You'll see so much more of this awesome city! And if you rent a bike, make sure you stay away from the sidewalks. New Yorkers get really defensive about their sidewalks…
Congratulations, Lena!  We look forward to seeing you again.
EC is an English language center in New York where you can improve your English and discover this amazing city!
Comments
comments