The High Line is a fairly new NYC public park on the West Side of Manhattan.  It is long, narrow, and is actually elevated above the streets of Chelsea and the Meatpacking District.  The park itself begins around 14th street and continues uptown to around 34th street, and the project hasn't been completed yet!  The section of the High Line that extends north of 34th street is still under construction.
During the Industrial Revolution, a railway line was built along the West Side of Manhattan, bring building supplies and passengers from Northern cities to New York City, where there was rapid building and urban growth.  The railway eventually was abandoned in the 1980's, and remained untouched for 30 years.  Growing concerns about the safety of the decrepit structure and limited space in the city caused engineers and urban planners to put their heads together and create a park out of the space.  To maintain the integrity of the previous railroad, the tracks are still a prominent part of the High Line and are visible in most sections.
Today, the park is regarded as a brilliant use of space, When the park officially opened in 2009, it was much smaller than the park we see today.  It was a prime example of "making something out of nothing", Each year, more sections are restored and open to the public.  The space has become a canvas for commissioned street artists, funky food and craft vendors, and a place to admire the juxtaposition between old and new architecture.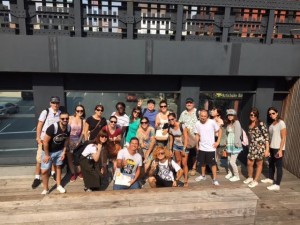 Do you want to discover New York city and learn English?  Check out EC New York!
Comments
comments