Claudio from Switzerland is a new member of EC English language center's unique Student Ambassador program.  Here is some information about Claudio, so you know how he can help you!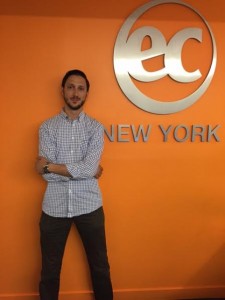 Where are you from?
I am from Switzerland, from the German speaking part of the country. My hometown is Basel, it's in the northwest, close to the French and German border. My parents indeed are from Italy. I have two passports.
Why are you learning English?
At the EC New York I'm in the Cambridge Class, for the Certificate of Advanced English. But my goal actually is to get the Proficiency level, because I'd like to teach not English, but in English.
What do you do in your country?
In Switzerland I'm a high school teacher. I teach history and Italian. I also attend university courses for German, to get the qualification to teach German.
Why did you decide to study at EC New York?
To be honest, it was a lucky coincidence. My girlfriend moved to New York because she got a job here. So I decided to join her and use the time to improve my English.
What do you like most about EC?
I like the fact that the school is literally in the center of Manhattan. From here you can get everywhere in the city. I like also the fact that there is on one side a wide "academic" choice – from classes with few lessons up to intensive courses like the Cambridge – and on the other side a wide choice of cultural activities for all different tastes: museums, sport events, excursions to other US cities, etc.
What do you like most about living in NYC?
New York offers something for every taste. It doesn't matter if you're interested in art, music, fashion, history, culture, sport, entertainment – there's everything, for everyone.
Where is your favorite place in NYC? (Both touristic and non-touristic)
I have two favorite touristic places I really recommend to visit: the Top of the Rock, from where you can see the Empire State Building and the Central Park, and the Ellis Island Museum. My favorite non-touristic place in New York is Greenpoint, in Brooklyn. It's a beautiful neighborhood, with a lot of bars, restaurants, nice fancy stores, etc. It's like Williamsburg, but not that crowded.
Do you have any hidden talents/skills?
I play Saxophone, even though I have to admit that I haven't been playing in the last months. In my spare time I practice martial arts, and I like to cook, especially Italian dishes.
What languages do you speak?
I speak German, Italian, French and English. And if you count Swiss German and the south-Italian dialect that I usually speak with my parents, I'm fluent in 6 languages.
What is your favorite food?
Because of my Italian roots, obviously pasta, especially Lasagne.
Students should ask me about…
Since this is my fourth time in New York, you can ask me about touristic and non-typically-touristic activities. Ask me also if you're interested in travelling. I have traveled to 21 countries. And ask me where you can get good (Italian) Espresso.
Comments
comments