Usually, marriage proposals occur in more traditionally romantic places, such as parks, fancy restaurants, baseball stadiums, or at the beach.  But on Friday, September 25, EC was the most romantic place in New York.
Marlene Rambo is a former student and current volunteer at EC.  She and her boyfriend temporarily moved to New York from Switzerland for their jobs.  After having been together for almost 5 years, he decided to pop the question- at EC New York.
EC staff members, teachers, and students all cooperated to bring together the perfect proposal.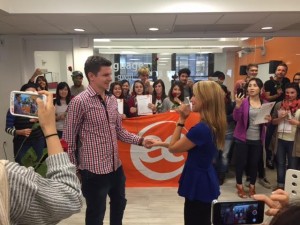 We asked Marlene some questions about her big day:
How long were you and Ben together before he proposed?
From today on exactly 4 Years  and 10 months
Were you surprised?
I was very surprised!!!I had no clue, that every single one of my work colleagues here at EC were involved and they kept the secret with them for already 2 weeks.
What I liked the most is that our Students formed an aisle with roses and that some of them cried with me during the proposal.
And have you seen the perfect ring I got?
Most women would like to be proposed to in traditionally romantic places such as a park, etc.  For you, it was EC New York!  Tell me about your sentiments:
In my life I never cared what the most women think. I always knew, that I would love to have a different proposal compare to my friends or some group of people, a one of a kind special moment which you always are going to remember was all I ever dreamt about.  EC School and New York City means a lot to us, I guess that's why he chose this place to pop the question.  Happiness is the only thing that multiplies when you share it.  For me the proposal was unique and very romantic.
Comments
comments