Cristina has recently joined the EC New York team, teaching intensive English courses in New York.  Cristina kindly shared some fun facts about herself and why she is currently teaching English in New York.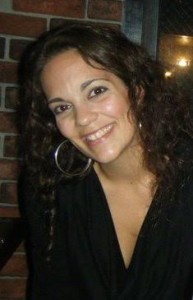 Where are you from?
I'm from a really small town called Callicoon, NY. It's about two and a half hours by car from NYC.
Why did you decide to teach English?
In university I learned about teaching English abroad. I was really interested in it, but wasn't quite brave enough to try it yet. So, I moved to San Antonio, TX instead and worked for 3 years doing clinical research. Finally, I learned about an opportunity to move to Japan and teach English and I jumped on it. Once I started teaching, I found that I loved helping my students in the class room and getting the chance to meet and get to know a lot of different people with different life goals and experiences.
What do you like most about teaching at EC?
I've only been here for a few months, but what I like most so far is the atmosphere of the school. The students that I have in class are excited not only to be in NYC but also to meet new people and to get the most out of their classes here at EC.
What is your most important advice for learning English?
A lot of students think that when they study English, they need to sit down and have a long study session. They also think that if they can't study for 30 minutes or an hour at one time that it's not worth it and they won't study that day. If you have a busy schedule, try to do mini study sessions throughout the day. Use your commuting time to read an article or book. When you're getting ready for the day, take a minute in the mirror and practice those words that are difficult for you to pronounce. Listen to a song you like and try to write down the lyrics. Ask your friends who speak English if you can use English in your conversations (even for just part of your conversation) or text messages. These activities, combined with classes and your homework (Do your homework!) can really help you to improve and feel more comfortable using English in other ways besides in the classroom or for your studies or job.
What do you enjoy doing in your spare time?
In my spare time I LOVE to cook. I read cookbooks and magazines, watch cooking shows and Youtube videos, and go to different restaurants (when I have time) to try new foods and come up with ideas for new recipes. My latest invention in the kitchen that I've just about perfected is a Spanish-style mac and cheese.
Share some fun facts about yourself:
1. I have a Boston terrier named Suge (it's pronounced like the first syllable of 'sugar'). I got him while I was in Texas and he came to Japan with me. 2. I lived in Japan for 5 years, 1 year in Hiroshima and 4 years in Fukuoka, and in Spain for about a year. 3. I used to work on my grandparents' farm when I was a kid and I learned to drive a tractor when I was 12. 4. I've had a lot of pets, both in my house and on the farm. I've had a mouse, a ferret, a horse, a goat, and a cow – just to name a few. 5. I love to learn new facts about anything. You probably don't want to go to a museum with me – I'm a reader. However, I'm really good at trivia games, so you probably want me on your team for that.
Thank you, Cristina!
Comments
comments