Tony Manna is a very popular teacher at EC New York language school.  In addition to being a great teacher, he is a professional actor.  He is currently performing in These Paper Bullets at the Atlantic Theater.  Tony shared some information about himself, his acting career, "These Paper Bullets", and how acting can help both teaching and learning English.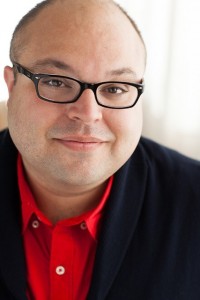 How long have you been acting?
I've been a professional actor since 2004, though I spent two years away from New York (2008 – 2010) living and teaching English in Korea. I studied acting at the University of Evansville and then got my masters degree from Yale School of Drama.
Are there any similarities between acting and teaching ESL? How are acting skills helpful in the ESL classroom?
Acting is about communicating, not only with language, but with the whole body. English is a language with a lot of nuance, and this can sometimes be very difficult for students, particularly my Elementary students, to understand. A student once asked me, "What is the difference between 'jump' and 'leap?'" I could have explained with words what the difference was, but it was so much more helpful to show the difference with my body. It was funny, and everybody laughed, but the student immediately understood. It really comes down to "comprehension" versus "apprehension." One is academic, the other is visceral and in your body. Acting is about being able to "apprehend," and I think an ESL classroom should be the same.
Tell us a little about These Paper Bullets:
"These Paper Bullets" is a musical adaptation of the Shakespeare play "Much Ado About Nothing." In Shakespeare's version, written in 1598, some soldiers come home after fighting a war, and then they fall in love with some women of the town. Our version of the play takes place in London in 1964, but instead of soldiers coming home from war, our guys are a band called the Quartos (a parody of the Beatles) coming back to London after a tour of America. It follows the same basic story of Shakespeare's original, though ours is in modern language and has lots of original songs by Bille Joe Armstrong of Green Day. It's really fun!
What have you learned from this role?
I play a character called Mr. Cake. He's a detective from Scotland Yard whose job it is to investigate the Quartos because he's afraid of this new "modern" culture and thinks it might be a bad thing for British society. The joke, of course, is that this time period became one of the most influential cultural periods of the 20th Century, but Mr. Cake and his colleagues are too old-fashioned and conservative to realize it. Playing Mr. Cake is really a lot of fun because the comedy is big and broad and crazy, but in a very British way! And, because Mr. Cake is almost always in disguise, I learned how to change clothes really, really fast between scenes!
Any advice for aspiring actors?
If you'd like to become an actor, I think the best advice is to stick with it. It can be a very difficult career to have, but if you have the proper training and the right outlook, you can learn to sustain yourself while you build a career. If you'd like to be an actor in an English speaking country, and your first language isn't English, I suggest making lots and lots of native speaker friends. Grammar is important, yes, but learning how to express yourself in English is much more important. Don't spend time hanging out with friends from your country and speaking your native language. Speak English!! That's good advice for everyone 🙂
How can acting help student with their English?
Acting is a great way to learn how to better express your emotions and more abstract ideas in English, and also to improve your pronunciation and intonation. You can learn English rhythm, like which words to stress and which not to stress. Word stress is a very important part of English…it can communicate a lot!
You can take intensive English courses and make new friends from all over the world!
Comments
comments