Shinya Yamaguchi is a frequent visitor to EC New York. He just finished studying here for the 9th time! Here is some information about Shinya, and why he keeps returning to EC New York.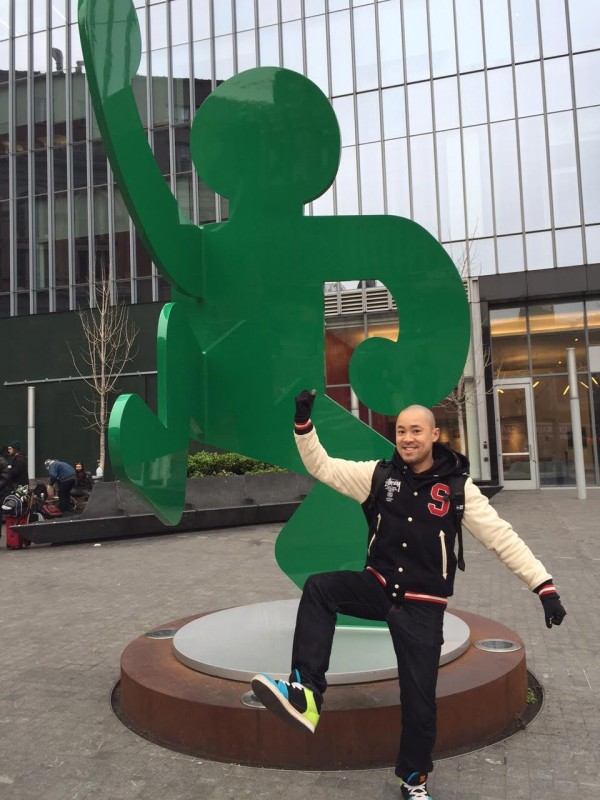 Where are you from?
I'm from Japan.
What do you do in your country?
I'm an automotive engineer. I develop GPS navigation systems.
Why are you learning English?
Because it's just for fun! I enjoy talking with friends from all over the world in English as a common language. So I would like to improve my English skill more. English skills are also a requirement for my job. But it isn't my real reason for learning English.
Why did you choose to study at EC?
Because the hospitality is awesome, teaching method is absolutely effective, and classmates are really kind.
Why did you decide to study English in New York City?
Because I love New York City. I've been to New York about 16 times. Of course learning English at school is important. But I think speaking English outside of school is also important to improve my skill. There are a lot of chance to speak English in my favorite place, New York. That's why I decided. Anyway, I like east cost hip-hop. I can go to hip-hop concerts after school. This is my second reason.
What did you like most about your EC experience?
One day, homework was very unique. All my classmates needed to bring traditional food and explain it. I brought Japanese traditional food, "Natto" which was fermented soy beans. It looked sticky and had strong smell. All my classmates and my teacher were surprised. My teacher tried to eat it then he screamed!
What did you like most about living in New York City?
New York is a 24/7 city. Public transportation services are very good. Trains and buses are available 24/7.
Share a highlight of specific memorable experience:
I met famous hip-hop artist who is DJ Kool Herc. He started hip-hop culture in 70's in New York. I talked to him then got his autograph and took some pictures with him. The experience was awesome.
Where is your favorite place in New York City?
My favorite place was 5pointz in Queens. There was an old building which had awesome graffiti. But it's destroyed. Because the building was supposed to be reconstructed. I'm so sad… Many people are too. This was a part of culture in New York. Recently my favorite place is Bedford in Brooklyn. There are many restaurants, clubs and a brewery, Brooklyn Brewery.
What advice would you offer to a new student?
Enjoy learning English at EC and of course have fun in New York!
Share some facts about yourself: (be creative!)
Do you know who my English teacher is? My English teacher is "Will Smith". I really like to watch 80's and 90's American sitcoms. I've watched "The fresh prince of Bel-Air" three times. The main actor was Will Smith. So that's why I expressed that my English teacher is "Will Smith".
Like Shinya, you can take English classes in New York!  
Comments
comments