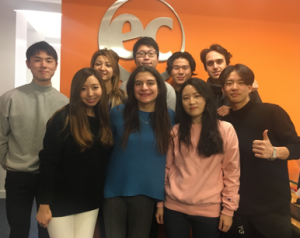 The Global Career Development course students made a video about climate change, as part of an awareness campaign. The video focuses on the effects of climate change in New York.
If we don't act against climate change, NYC is going to be underwater by 2216. Please save the earth🌎. It's time to act💪🏽. Start with small things🗽. Unplug your appliances🔌. Don't waste water💧. Take the subway🚈. Ride a bike🚲. Don't litter🗑. Turn off the lights💡.
Watch the video here: Save New York from sinking
The Global Career Development course is for students who want international business careers. This programme will give you a solid foundation for professional success.  Spread over three terms, our students raise their English level, learn essential business skills, receive personal focus and gain real professional experience. Within each term, you will acquire new English language skills while engaging with a group of focused, likeminded students and authentic business people.
#GlobalCareerDevelopment #Savetheearth #NYC #Climatechange
If you would like to save the world like the students at EC New York, you can too by learning "The Global Language": Learn English in New York
Start your EC experience today, contact us for information on our schools and English courses
[hs_action id="2793″]
Comments
comments