SeungHee Woo is from South Korea. She has been studying at EC New York 30+ school since May 20th and will continue to study until August 15th.  Here is some more information about her experience at EC New York.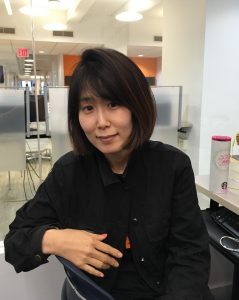 Name: SeungHee Woo
Country: South Korea
Why is she studying English?
SeungHee is studying English to be able to communicate fluently with people from around the world.
Why is she studying in NY?
New York City is a big city and there are so many things to do! Plus, SeungHee was an interior designer in her country. She's interested in architecture and there are so many amazing landmarks and interesting buildings in New York. It's amazing to walk around the city and be surrounded by such beautiful architecture.
Why did she choose to study at EC New York?
Seunghee really wants to improve her English, especially her speaking and listening. Her agent told her that EC is really focused on speaking English and offers lots of opportunities to practice speaking. This is why she choose EC New York.
What does she like best about EC New York?
Seunghee thinks that EC New York has kind staff who give her advice. She also likes the activities that she can participate in. Finally, she really enjoys the special focus classes that help her improve even faster!
What plan does she have after she graduates here?
Seunghee plans to return to her country, South Korea. As she quit her job prior to coming to New York, she hopes to get a new job in interior design when she returns.
Thanks, Seunghee! You could also take Adult English Courses in New York like Seunghee at EC New York.
Comments
comments