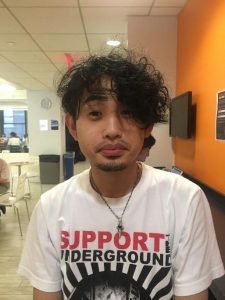 Ryo Morita comes to EC New York from Yamanashi, Japan. He studied at EC New York from March 6th and decided to sit with us and tell us about his experience. 
Ryo is a university student in Tokyo. His major is English and American literature. He enjoys studying English because he likes talking to people from different countries and sharing opinions with them. According to Ryo, English is one of the most important skills to communicate with those who are from all over the world. He believes that by communicating with others, he can widen his perspective and broaden his horizons. He chose to come to New York City because it's one of the most multi-cultural cities in the world. It is also a big and busy city and the center of the world. In New York, Ryo can meet many people from all over the world and get to know them. Also Ryo loves going to the museums here because he's really interested in art and music. Ryo is so talented that he even sang a little Bob Dylan at his graduation! Check out our EC New York Facebook page to catch Ryo in action!
Ryo loved studying at EC New York because of the atmosphere that the school has. If he's in the student lounge, everyone says hello or talks to him. He also thinks that the teachers and staff are great because they are always friendly and care about the students.According to Ryo, it's like one big family at EC New York! 
For those interested in visiting New York or taking Adult English Courses in New York, Ryo recommends walking around the city and getting to know all the different cultures. He also recommends going to the National September 11th Memorial and Museum as well as to some of the local pubs. These are great ways to talk to local people and to learn more about New York at the same time!
Thanks, Ryo, for spending time with us and studying at EC New York!
Comments
comments