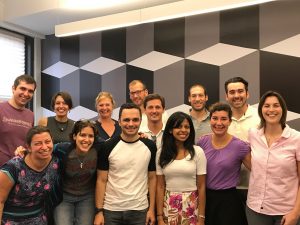 We understand. There's lots of reasons why you might be scared to study English if you're over thirty years old. Perhaps you don't have enough time because you're busy working. Or it's been several years since you've been in a classroom, and you're afraid of how it might be to study again. Maybe, you have experienced all that life has to offer, and you don't want to share the classroom with teenagers. Whatever your reason, EC New York 30+ is your answer!
Lots of our students in our 30+ school have jobs and they aren't able to study for very long. This isn't a problem. We offer week-long courses for those who are time sensitive as well as courses designed specifically for those students who have work or professional needs. Plus, most of our students are professionals in their own countries. it's great to study alongside others who have the same backgrounds as you – they'll not only share the same challenges and fears, but also the same aspirations and goals. it truly makes for a better classroom experience.According to Erika from Brazil, "EC has given me one of the most uplifting experiences I've ever had in my life."
Don't worry if you haven't been in a classroom for a long time! Our teachers are sensitive to our students' needs and are able to ensure that you make the progress you need! Plus our classrooms are fun and dynamic. You won't be worried about your mistakes when you're having fun learning English! With our 30+ program, you'll be learning alongside other students with rich life experiences.You'll be able to learn topics in depth and will be able to discuss topics important to you. According to Marta from Italy, "The quality of the students here are exceptional! They are so professional!" You'll be able to build your network while also improving your language skills!
Be like Erika and Marta and countless others of our 30+ students and enroll in our Adult English Courses in New York today!
Comments
comments