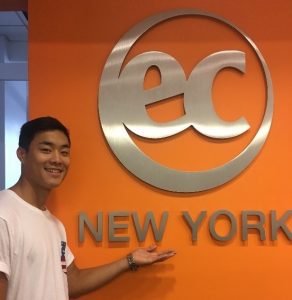 Manh Huan Nguyen is a university student from Switzerland. He studies food science in school, and decided to learn English for his future job. In Switzerland, it's very important to know English, because if you can speak English more fluently, you can easily communicate with those who come from a different country.
Manh Huan chose to come to New York because it's one of the biggest and busiest cities in the world. "There's an unlimited amount of things you can do here! I also live in the 1760 Summer Residence and I think it's good to be in Manhattan and close to everything."
Manh Huan really liked studying at EC because there are many students from different countries and they are friendly and open. Therefore, it is easy to meet new people and make new friends. The teachers are also good.
During his time in New York, Manh Huan took part in the kayaking and basketball free activities. These were great because they were active sports and free to students!
If you're new to New York and thinking of studying ESL in New York, Manh Huan recommends visiting the Brooklyn Height Promenade because the view of the skyline is beautiful and amazing.
Comments
comments